The links on these pages are kept updated at least twice a month if not more.
However, should you find a broken link, please report it to us.

Please also keep in mind that there are a lot of banners and links here.
To make it easier and faster to view them we have included them on other pages.

Want to see your link or banner here?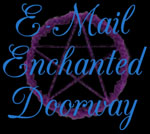 If you want to link to us just click here!


---

Below are the subjects for our links. Because we now have so many, we have decided to list them first.

WICCA/PAGANISM/WITCHCRAFT

OTHER OCCULT/MYSTICAL/PARANORMAL SITES

ALTERNATIVE HEALING

VAMPIRISM

SITES WITH NEWS

RETAIL SITES

CAMPAIGNS